Hello, I am Justus Bernhard.
 Here is my story, so far: In January 2017 I started working in a Scheurebe  vinyard at Hackenheim Kirchberg. I was given free hand to realize my ideas in the field and in the cellar. The outcome is a dry Scheurebe that suits the existing portfolio, perfectly. We love it, and it closes the gap of a dry aromatic white wine. 
It is available from now on at 8,90 €/0,75l.

List no. 5J17
alc. 12,5 %/vol.
residual sugar 8 g/l
acidity 6,7 g/l

Gold award June 2018
Landwirtschaftskammer Rheinland-Pfalz 

I am looking forward to hear your feedback on my first own wine. 

Best,
Justus Bernhard

 
 
---
Have you already made your choice for wine and sparkling that you want to enjoy with your family and friends? 
Our passion is concentrated on the outstanding quality of our products. Bernhard sparkling is our passion. It is fermented in the bottle and we rack it  by hand.  Click here to see the phases of traditional sparkling at our family-owned winery. 
You get your holiday wine at our winery our you or we deliver via Deutscher Paketdienst DPD parcel service. In most regions we regulary provide free delivery, contact us if you have not yet received information from us. See here for your region: (more…)
---
Wine merchants love wine, and, share their passion with wine growers. Our merchants from  Wacky Wines (http://www.wackywines.com/) in the Netherlands have made a great vvideo showing our winery in action.
Link to the YouTube Video about Ch.W. Bernhard Estate
---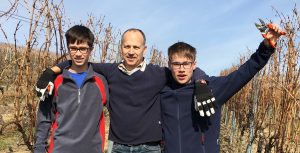 Cutting is almost done. Hartmut, Justus and Vincent Bernhard were part of the cutters team.
---
Have a look into our traditional family sparkling production:
---